INTENSIVE MOISTURIZER
Moisturizing care with hyaluronic acid
♥ rosacea friendly
€32,90
€26,00
&nbspVAT included
60ml&nbsp|&nbsp€43,33
/
per
100ml
You Save: €6,90 (21%)
In 2-4 Tagen bei Dir zu Hause
kostenloser Versand ab 50€
Spend €50,00 to Free Shipping
sofort spürbarer Effekt für Deine Haut
hohe Verträglichkeit Dank reizarmer Rezepturen
100% zertifizierte Inhaltsstoffe
30 Tage Geld zurück Garantie, falls Du nicht zufrieden bist
in Deutschland entwickelt und hergestellt
100% vegan und PETA zertifiziert
Hast Du Fragen? Schreib mir einfach eine WhatsApp.
Ich helfe Dir gerne weiter.
PRODUCT INFORMATION
INHALTSTOFFE
Anwendung
CUSTOMER REVIEWS
PRODUCT INFORMATION
Our intensive moisturizing cream with hyaluronic acid is rich in aloe vera and hyaluronic acid and ensures a soothed and relaxed complexion.
The very tolerable face cream has a calming effect on dry and irritated skin thanks to natural aloe vera juice. Hyaluron moisturizes and smoothes your skin. Wrinkles due to dryness are reduced and your skin's appearance is noticeably evened out.
Your skin's protective barrier is strengthened and reddened areas are soothed. Our cream contains no fragrances. and no alcohol, so even over-groomed and sensitive skin can regenerate and soothe.
We used these active ingredients to help your skin:
Hyaluronic acid

binds water in your

skin

, ensuring more elasticity and tone.

Aloe Vera provides intensive moisture and soothes your skin

Hyaluronic acid binds water in the

skin

, ensures more elasticity and therefore works against wrinkles.

Jojoba oil moisturizes and increases skin elasticity.
Plum kernel oil has a light, fine marzipan smell and protects the skin barrier.
Squalane – (from olives) retains moisture, reduces skin water loss and is an antioxidant to protect against free radicals
Apricot kernel oil makes the skin supple and is particularly well tolerated by sensitive and irritated skin.
INHALTSTOFFE
Aqua, Aloe Barbadensis Leaf Juice*, Cetearyl Alcohol, Pentylene Glycol, Prunus Domestica Seed Oil*, Glycerin, Prunus Armeniaca Kernel Oil*, Squalane, Rhus Verniciflua Peel Cera, Cetearyl Glucoside, Sodium Hyaluronate, Xanthan Gum, Tocopherol, Helianthus Annuus Seed Oil *, Glyceryl Caprylate, Citric Acid
*Raw materials certified organic

Moisturizing care cream: High proportion of aloe vera and hyaluron (strongly moisturizing). With selected very high-quality and well-tolerated ingredients. For example, squalane was used instead of palm oil. Most cosmetic products still contain the much cheaper palm oil. Instead of fragrances, plum kernel oil with a high cosmetic effect but also with a natural almond/vanilla fragrance is used.

Aqua - natural moisturizer and solvent for aloe vera gel
Aloe Barbadensis Leaf Juice - Aloe Vera Juice/Gel Extract - Desert Lily retains water for survival, rich in nutrients (over 200)
Cetearyl Alcohol: (natural, plant-based) emulsifier, gives the skin a silky feel, recommended by the skin protection angel
Pentylene Glycol - alcohol (preservative, moisturizing) protects the cream from bacteria and fungi is a diol and has a moisturizing and non-drying effect. In the Cosmetics Ordinance, it is not considered a preservative because of its dual effect of preserving and caring. That's why we can also say "free of preservatives".
Prunus Domestica Seed Oil – plum kernel oil (nourishing, fragrant)
Glycerin - trivalent alcohol (preservative, moisturizing)
Prunus Armeniaca Seed Oil – Apricot Kernel Oil (nourishing)
Squalane (from olives) – has a very high spreading effect. This means that all oils can penetrate the skin very well. Creates a very silky skin feel without being greasy.
Rhus Verniciflua Peel Cera – lacquer tree berry peel wax purely vegetable, recommended by the skin protection angel.
Cetearyl glucoside - natural and purely vegetable emulsifier made from coconut oil and sugar (recommended by the skin protection angel)
Sodium hyaluronate – hyaluronic acid: Hyaluronic acid (sodium hyaluronate) is a natural, important component of connective tissue that has the ability to bind large amounts of water.
Xanthan Gum: Xanthan Gum ensures the stabilization and firmness of the creams. From a chemical point of view, it is a natural multiple sugar (polysaccharide) that is obtained by fermentation (with the help of natural microorganisms). Like all "consistency enhancers" that are based on sugar-like structures, xanthan gum is moisture-binding and reduces transepidermal water loss (dehydration of the skin). Since Xantham Gum, in contrast to many conventional emulsifiers, has a very high molecular weight, it does not penetrate the horny layer of the skin. Accordingly, skin irritations are virtually impossible with xanthan gum.
Tocopherol (Vitamin E) dissolved in Helianthus Annuus Seed Oil (Sunflower Oil).
Glyceryl caprylate - co-emulsifier, to stabilize oil/water emulsions with moisturizing, water-binding and antibacterial effects, recommended by the skin protection angel.
Citric Acid - citric acid - stabilizing

Anwendung
HOW TO USE OUR INTENSIVE MOISTURIZING CREAM WITH HYALURONIC BEST:

As pure facial care, apply directly to the skin after cleansing.
If you want, you can apply a serum beforehand
apply facial care at the end of your care routine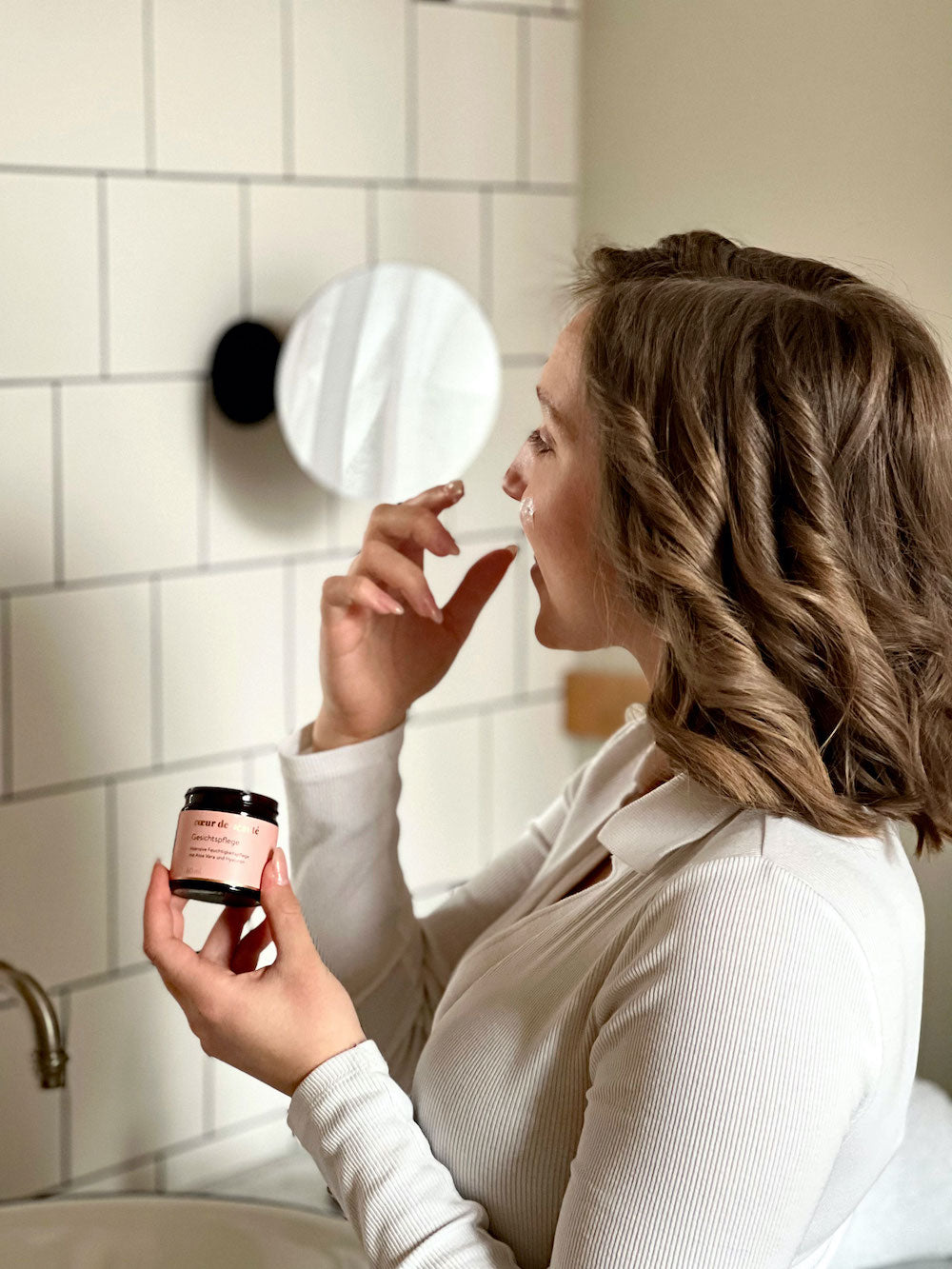 Which hyaluronic acid do we use?
We use a combination of high-molecular and low-molecular hyaluronic acid in our products. HIGH MOLECULAR HYALURONIC ACID settles on the skin's surface. The elasticity is improved in the short term and the skin is supplied with moisture. LOW MOLECULAR HYALURONIC ACID can penetrate the skin and influences the connective tissue so that the skin can store water over the long term. This makes the skin appear firmer and plumper. Small wrinkles are visibly reduced.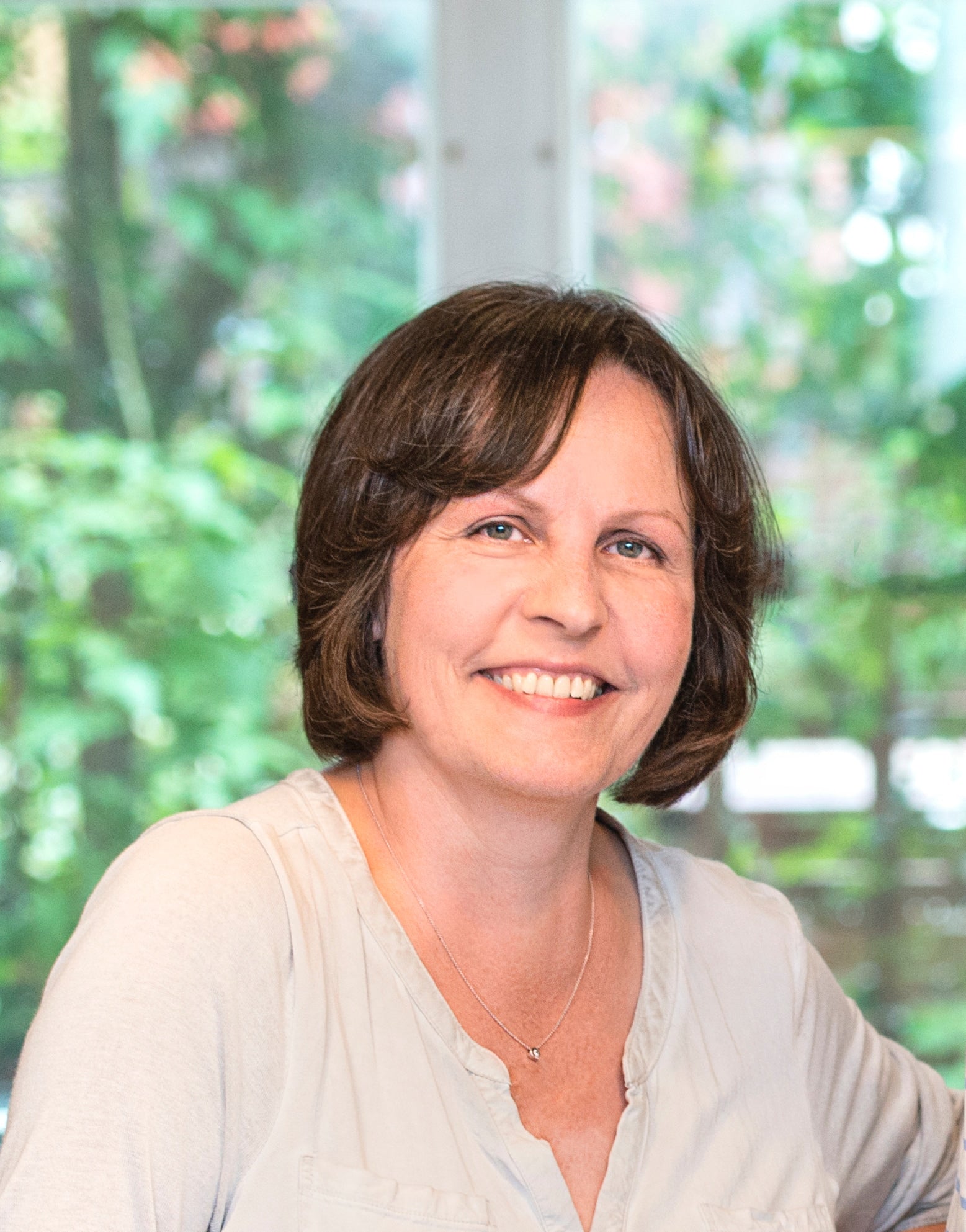 30 Tage Geld zurück Garantie
Aufgrund meiner eigenen langjährigen Erfahrung mit meiner sensiblen Rosacea Haut habe ich begonnen eigene Produkte zu entwickeln nach dem Prinzip: "Meine Haut soll nur das bekommen, was sie wirklich braucht",  Ich bin von den herausragenden Pflegeeigenschaften meiner Produkte überzeugt, da ich diese jeden Tag selbst nutze und mich wieder wohl fühle in meiner Haut. Solltest Du mit einem meiner Produkte nicht zufrieden sein, dann melde dich bei mir mit Deinem Problem und Du bekommst Dein Geld ganz unkompliziert zurück.
Gut für Dich, gut für die Umwelt
Wir verzichten in unseren Produkten auf unnötige Inhaltsstoffe wie Silikone, Parabene, Mikroplastik, Füllsstoffe, Palmöl und Duftstoffe. Zusätzlich sind unsere Produkte 100% vegan und PETA zertifiziert. Um unsere Umwelt zu schonen, entwickeln und produzieren wir unsere Produkte ausschließlich in Deutschland, unsere Verpackung besteht aus Glas oder recyceltem PET und wir versenden Eure Päckchen CO2 neutral.